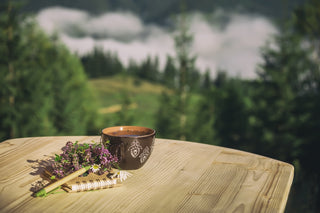 What is this about Ceremonial Cocoa?
Superalimento sagrado
With more antioxidants than any other widely consumed food, cocoa is rich in essential vitamins and minerals such as magnesium, potassium, iron and calcium.
Cocoa in its whole, unprocessed form contains epicatechin and catechin flavonoid compounds, which have been shown to have beneficial effects on vascular function and increased cognitive performance.
It is important to note that there is nothing wrong with the cocoa powder itself, however the high temperatures and industrial processing mean that it has been stripped of its natural fatty element and many of its active compounds destroyed. This completely changes the way this plant is received and absorbed by the body and means that we are missing out on some of this medicine's richest and most exciting properties.
Ceremonial cacao comes from the same source as the more common cacao, but is otherwise complete and whole, having been lightly dried in the sun before being ground into a paste.
Nothing added, nothing removed.    
This has the literal translation of "food of the gods".
Central American natives used it as a sacred drink in ceremonial gatherings to create healing, rapport and inspiration.
Back in the 21st century, cacao ceremonies are becoming increasingly popular as spaces for people to connect with each other - and reconnect with their selves - in new ways.
Our mission is to bring this sacred medicine straight from the jungle to you, so you can experience Cocoa as it has been experienced for over 2,000 years!
We only work with the highest quality cocoa beans grown by the Q'eqchi' Mayan tribe in Guatemala.
O Cacau sagrado que proporciona recuperação, gratidão e inspiração.
Cerimónia do Cacau
O despertar para uma conexão profunda.