Cacao Ceremony
Inner reflection and balance of energies
Cacao Ceremonies are a centuries-old practice that can help improve mental, physical and spiritual well-being. There are several types of Cacao ceremonies and they can be performed either in groups or individually.
When done in a group, this energy field becomes exponentially bigger and more effective, your energy is transferred to the same frequency or vibration. Even if you are participating with strangers, you can share personal experiences that can bring clarity and inspiration to your life.
When it comes to this topic, there are no set rules and each experience should be unique to each person. The secret is to let it flow and be authentic with yourself, so nothing can go wrong.
In a miraculous way, we can say that the power of cocoa helps your body to take control and possible negative thoughts disappear. You begin to feel energetic, alive, creative...

It is a sensorial experience, a special journey where cocoa takes the honors and allows thoughts to wander. When we allow ourselves to embrace our capabilities, the result can only be amazing.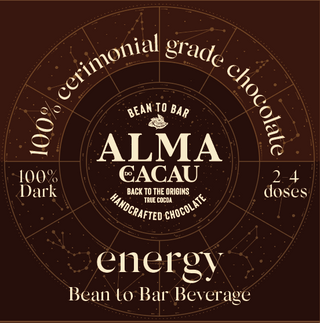 Choosing the right chocolate to include in the Cacao ceremony is something that requires a lot of attention. Ceremonial Cacao must have quality and respect the origin. Thus, we decided to create our Ceremonial Chocolate in order to guarantee that all assumptions are guaranteed.
The active ingredients present provide a unique sensory experience. We selected the best cocoa and followed our philosophy present in all Alma do Cacau products:
- Fairtrade: We pay farmers a fair price and above the market average, in order to provide a more dignified life for workers and combat child labor
- Organic Certification: We comply with the strict conditions from the production, processing, transport and storage
- Gluten free, palm oil free and cane sugar free
- Vegan and Paleo
Cocoa has a subtle effect, let's say it's something from the subconscious: it eliminates barriers we didn't know existed and highlights unexpected or oppressed things. Some people feel it right away, while others take some time.
Whatever your personal experience, a cacao ceremony gives you exactly what you need and the effect can last in your body for hours. This must be a time for the body to tune in with the soul.
No two ceremonies are alike and the effect depends on your mental attitude at the time, what you need is what you get.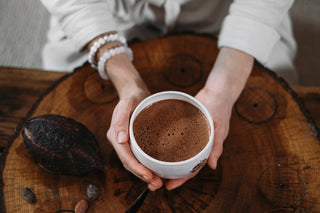 Ceremonial Cacao Recipe
Create a Cacao ceremony with the suggestion we present: a way to prepare cocoa to re-establish contact with your intuition and open your heart.