Ceremonial Cacao Recipe
We present a suggestion of a homemade recipe for ceremonial cocoa, to re-establish contact with your intuition and open your heart.
We want you to enjoy the drink of the Gods supremely.
Ingredients
100% Ceremonial Grade Chocolate Alma do Cacau
200ml of water
Optional: 1g Cayenne Pepper, Ginger or Cinnamon
Prepare your cocoa in 3 simple steps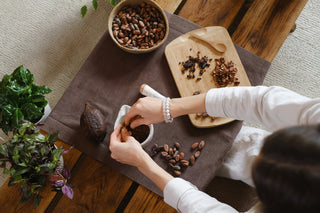 1st step - Leave
If you are new to Ceremonial Cacao, opt for 1/4 of the cacao serving (10 to 15g). Or, for a full ceremonial serving, opt for half a cocoa disc (20g).
2nd step - Mix
Add cocoa to a cup of boiling water or vegetable milk. Engage the preparation very well until you form the desired foam.
3rd step - Savor
Fill your favorite mug and enjoy your drink from the Gods, right down to the last sip.
At the end of the cacao ceremony you should take some time to take a deep breath, reflect and give thanks for the experience you have received.