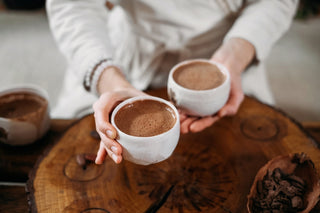 Cocoa Ceremonial
The sacred Cocoa that provides recovery, gratitude and inspiration.
Our mission is to bring you this sacred remedy, as it has been experienced for over 2,000 years.
Made from organic cocoa, each disc has the power to give you a unique experience, able to elevate your energy.
Inspired by ancient Latin American rituals, we present a pure chocolate, carefully selected to be taken in meditation ceremonies
Ceremonial Cocoa contains the profound healing potential of Cocoa in its purest form.
Cocoa Ceremony
The awakening to a deep connection.