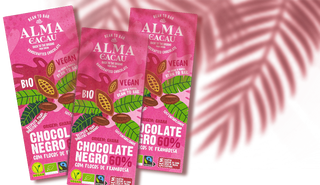 The fruity aromas
Chocolate 60% Cocoa with Raspberry flakes
Intense, creamy, fruity and with a touch of acidity. For this we have combined the purest cocoa from Ghana with the best raspberries. The end result is simply delicious and healthy chocolate.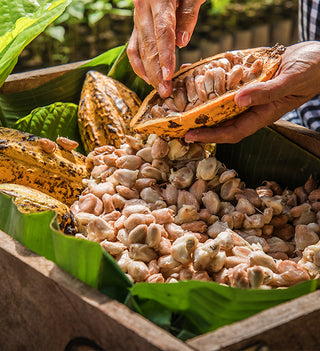 Discover the power of cocoa
Cocoa is happiness in a square shape
We created Alma do Cacau with a mission: to return to the origins of cocoa and recover the essence of authentic chocolate. Contrary to what many think, cocoa is a true superfood.
Only 2 ingredients
The purest bar of dark chocolate
We have for you a selection of chocolates made with just 2 ingredients: Cocoa and coconut sugar. There is no better way to taste real cocoa than with our chocolate bars, made with true soul.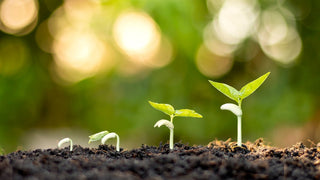 A commitment to our planet
Carbon Neutral Shipping
We neutralise the carbon emissions associated with our shipments and support reforestation.
Our origins
Founding Alma
What led us to create Alma do Cacau? What made us believe in this project? How was it possible to create a chocolate full of values ​​and good practices?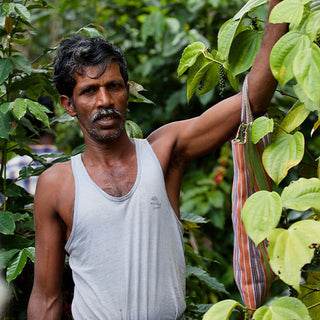 Our origins
Respect for life
The only way to build something truly good is to respect the people who make this project possible. That's why we chose to be part of the great Fairtrade family.
Our origins
Love the planet
It made no sense to offer pure chocolates if our packaging wasn't faithful to the same principles. We try to keep our ecological footprint to a minimum in everything we do.
Much more than a chocolate
Energy, Focus & Immunity
Made only with organic and vegan superfoods, our chocolates are highly nutritious, energetic and healthy snacks. We are your ally to make you feel better, inside and out.